While it is normal for eyelash extensions to feel crunchy for the first day because the lash glue needs some time to settle, there can also be other reasons behind their crackly sensation.
Getting eyelash extensions can be tedious, but they make your eyes look more fluttering and awake when done correctly. Further, you appear more put together every morning and save yourself from the daily irritation of curling your natural lashes or wearing falsies. 
Whether you got the lash extensions for the first or have been wearing them on for a long time, there are some common issues you should know about them. They can get twisted, bent, or feel crunchy.
So, why do your eyelash extensions feel crunchy?
The most common reason eyelash extensions feel crunchy is the material they are made from. Those made with synthetic fibers (acrylic) appear a bit hard, crusty, dry, and plastic-like. 
Nevertheless, it can be a mistake of your lash technician as well. A wrong application technique like poor quality or too much glue can also make lash extensions feel crunchy. And other reasons I have discussed below!
In this article, we will go through some of the common reasons your eyelash extensions feel crunchy, rigid, or dry. 
What Can Make Lash Extensions Feel Crunchy?
Typically, if you go to an expert lash stylist to get your eyelash extensions, you won't feel any issues afterward. Some types of volume lashes are not made for your eyelashes. Take a look at the following points to find out why your lash extensions feel crunchy.
1. Lash Extensions are Made From Synthetic Fiber
The eyelash extensions made from acrylic fibers are sturdy, glossier, and create a more dramatic look. While synthetic volume lashes can help you get a thicker and fuller look, they also have a few downsides.
Most ladies don't find these extensions comfortable and soft on their eyes because all of us haven't those healthy and thick natural lashes. The lash technician typically suggests synthetic lash extensions to younger ladies who want a more dramatic look on their already dense natural lashes.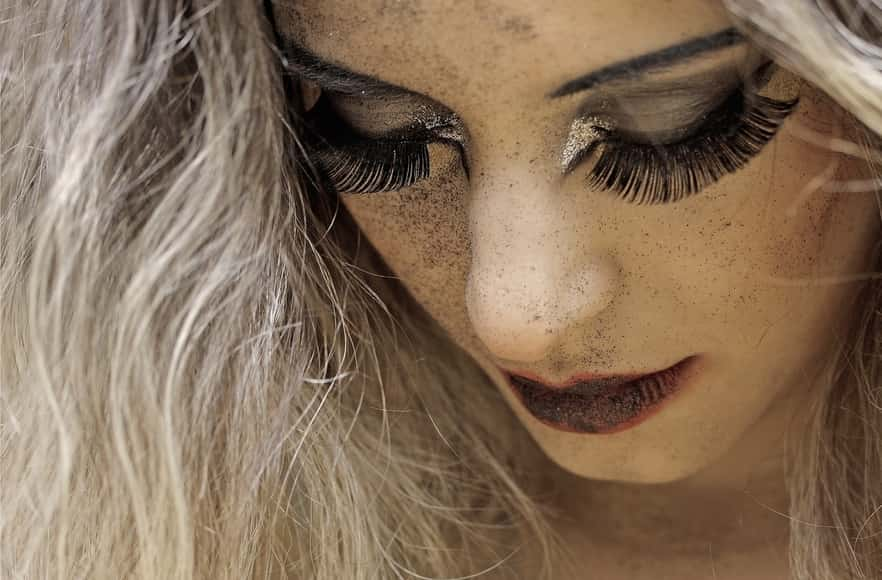 The synthetic fiber goes through a lot of processing, where it is polished and hardened into the lash extensions. Therefore, when you touch these volume eyelashes, they feel crunchy, crusty, and dry.
2. Poor Quality Eyelash Extensions
Multiple brands are offering varying qualities of lash extensions. Your lash stylist can put on low-quality volume lashes to your eyes to earn some extra bucks, or you can be deceived while buying a cheap price pair online.
If your eyelash extensions have the following problems, they can be made of poor-quality material. 
They lose curls within the first few days.
Feel brittle, dry, and crunchy upon touching.
They don't have a firm grip and fall away quickly.
Lash extensions too thick in diameter
The material used in crunchy lash extensions can be nylon or some other low-quality synthetic fiber. While they can be difficult to break with your finger, they don't last long on your eyes. 
3. Lash Extensions Glue Is Applied Too Much or Has Bad Quality
The adhesive is one of the most crucial components of eyelash extensions. And running into a poor quality glue can have different repercussions, of which dry and crunched lashes are one.
None of the lash extensions glue is free from cyanoacrylate, a potent bonding agent. Further, the adhesive also contains formaldehyde. So, if your lash stylist applies too much glue on your eyelash extensions, it can make them feel crunchy.
When cyanoacrylate comes in contact with moisture, it dries out, making your volume lashes dry and crusty. Formaldehyde, on the other hand, also can have a drying effect.
So, whenever you think of getting the lash extensions, go to an expert technician and choose a good quality adhesive.
4. Volume Lashes Not Cleaned
Getting lash extensions can cost quite some money. Therefore, we try to avoid everything that can ruin them. You hear a lot not to touch, lube or clean eyelash extensions to prevent them from falling out too quickly. Well, all of it is not true.
You may need to cleanse your volume lashes every time you remove the makeup. Otherwise, chemicals and dust can build in, making them feel sticky and crunchy sometimes. 
Also, keeping your eyelash extensions dry all the time is not wise. According to Allure, you need to oil them with baby oil using your fingers to make them feel soft and nice looking. 
5. Using Alcohol and Sulfate-Based Lash Cleaning Products
Both alcohols and sulfates are infamous for making natural hair dry by ripping off its moisture. But do you know using eyelash extensions cleaning products containing these chemicals can also make your volume lashes dry, brittle, and crunchy?
While it is not too common, harsh shampoos or soaps on lash extensions can make them crunchy. According to a study, when silk fiber came in contact with alcohol, it experienced some structural changes.
Therefore, make sure you use gentle cleansing shampoo or soap for your face and volume lashes. Eyelash extensions go through all those cleaning agents you employ for your face and hair unless you protect them with shower goggles.
Which Eyelash Extensions Don't Feel Crunchy and Plastic
The eyelash extensions currently available on the market are made of three types of materials. The ones that create a dramatically thicker look are mainly acrylic in nature. But they are incredibly stiff and straight, with gritted edges. This type of volume lashes is more likely to feel crunchy and brittle.
If you want a soft and comfortable set of lash extensions, those made of silk fiber or real mink are the way. They are more delicate and softer and give more natural-looking eyelashes.
In particular, silk and mink lash extensions are ideal for putting on thin eyelashes because of their lightweight and comfortable touch.
Faux mink eyelashes have been getting attention recently because they are glossy, lightweight, and almost feel natural upon touching. They don't twist or drop, unlike those made with synthetic fiber.
Executive Summary
Eyelash extensions feel crunchy, crusty, and plastic mainly because of the material they are made of. Synthetic fiber, acrylic, and volume lashes are more stiff and brittle to touch and are favored for those with naturally thick and healthy eyelashes to create a more dramatic and voluminous look.
So, if you have thin lashes, you might opt for silk or mink eyelash extensions. They look incredibly glamorous and natural and are softer.