Eyelash extensions last longer when you wear goggles to protect them from water, humidity, and sunlight exposure.
The lash extensions industry has stood the test of time, growing 6% yearly. Volume lashes are the most sought-after thing when it comes to eye beauty. Lash extensions can change your appearance if you have short lashes or want a voluminous look. However, they are quite an investment.
You may spend between $100 to $300 on them. So, taking care of your lash extensions becomes crucial, especially from water and when going out in the sun. The goggles are the foremost thing for the maintenance of eyelash extensions.
We have tested a few affordable yet protective goggles for eyelash extensions. So, keep on reading to find the best one for you.
Why Eyelash Extensions Goggles Are Important?
The eyelash extensions help you volumize your lashes or make them longer to draw attention to your pretty eyes. However, they need maintenance to last longer and give a good return on your investment in them.
The best way to protect your volume lashes is to be diligent about a few things. And the first one is water! The water weakens the lash glue over time and makes your eyelash extensions easy to fall off.
So, wearing goggles during the shower or while washing the face is better, especially for the first two to three days after getting eyelash extensions.
Exposure to sunlight, especially when going out for tanning, can loosen the eyelash extension glue. The same goes for tan beds, where heat from the light can weaken the adhesive. So, wearing goggles can protect your lash extension from falling out.
Tanning sprays can coat your eyelash extensions, weakening their bond with natural lashes, and can cause them to shed prematurely. That's why goggles are your extensions' best friends.
Do You Need Separate Goggles For Tanning & Shower?
You can't go for tanning in the sun or use tan beds while wearing swimming goggles to protect your eyelash extensions. These goggles don't filter the UV rays and heat from the sunlight. Shower or swimming goggles only prevent water from getting into your eye or on the eyelashes.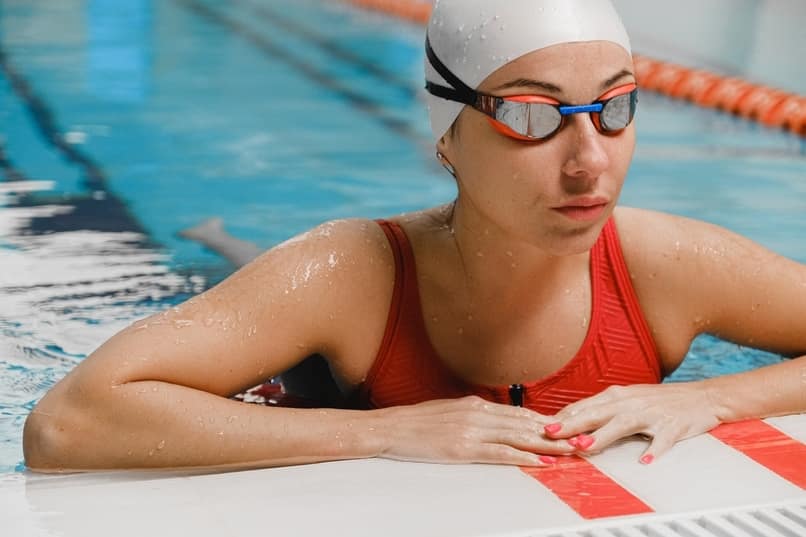 So, if you want to protect your eyelash extensions during tan beds, spray, or outdoors in the sun, you might need to buy different goggles.
However, we came up with multipurpose goggles. You can wear them during the shower, swimming, and sunbed to make your lash extensions last longer.
Shower Goggles For Eyelash Extensions (Also Block UV Rays)
The best way to keep water away from your lash extension for the first two days is to wear a shower or swimming goggles. They even prevent the steam of hot water from getting onto your volume lashes and weaken their bond with glue.
The foremost thing to look at in the goggles for your eyelash extensions is if they are open enough for your lashes. Because if they are not, your volume lashes might get crooked by constantly being in contact with goggles. 
AqtivAqua goggles should be your go-to option if your eyelash extensions are longer than usual natural lashes. In addition, they have some of the excellent features you would rarely find in other goggles. 
Pros:
Polycarbonate lens that has ultimate UV protection and anti-fog capabilities.
One-click adjustment button helps you customize the strap according to your comfort and size. 
Ultra-soft silicone pads that feel comfortable on your eyes and seal them well. 
They come in a protection pack and last for years.
You can wear them while swimming, showering, or getting tan. 
If you have tried goggles from multiple brands but haven't found the pair that fits your eyes and doesn't leak or fog, Arena Core swim goggles can be your best friend. You will be blown away by how clear you can see underwater with these.
Why are they well suited for your eyelash extensions? The swim goggles from Aegend are wide and don't touch the ends of your volume lashes. While they are designed for swimming, you can wear them on tan beds or in the shower to protect your eyelash extensions.
Pros
High quality
Variety of colors and designs
Allow you to see through clearly
Provide UV protection
Look Classy and Comfy
Have excellent suction hold
Anti-fog and Leakage
Best for indoor & outdoor swim
Cons
The lens may look foggy from the outside after some time
You might love this pair from the speedo if you want to buy goggles that look sporty and awesome, along with protecting your eyelash extension from UV rays, heat, and water.
They come with a pretty stretchable strap that feels light and comfortable to wear. Also, the anti-fog coating makes uni-sex adult swim goggles last longer and provides you with a clear underwater view.
They have a leak-proof seal that feels comfy while preventing every single drop of water from touching your volume lashes.
Sleek, low profile inner eye fit
Ani-Fog
UV protection
Updated design
Adjustable nosepiece
Best vision lens
They come in a variety of colors and have a sporty look. Their high-quality lens filters the UV rays and provides a perfect broad vision under the water. 
The polarized lens in the Speedo swim Goggles has the anti-fogging capability and UV protection that allows you to see clearly both above and below the water.
Pros
Anti-fog
Comfortable, stylish look
Polarized lens
Durable 
UV protection
Excellent fit
Make you want to swim more
Cons
Are you looking for a quality swimming goggle with clear vision, anti-fog protection, and scratch resistance for your lash extensions? Look no further than the Pyramex Sporty Dual Swimming Goggles!
These goggles are made with high-quality materials and design, ensuring they are safe and comfortable to wear on eyelash extensions.
Additionally, the lenses provide UV protection to help keep your eyes safe from the sun's harmful rays. And best of all, these goggles feature an adjustable strap for a perfect fit on any head size and a tight seal to prevent leakage.
Wear Wink Lash Disposable Protection Against UV
What if you get affordable 50 pieces of UV protection wraps that you can throw away every time you are done getting tan? If you only want to protect your eyelash extensions while tanning, I suggest buying Wink Ease UV protection Lash Room.
They are small circular wraps that you put on your eyes when lying down on the tan beds and dispose of them when you are done getting tanned.
Best Tanning Goggles For Eyelash Extensions
You must wear tanning goggles when sleeping on the tan beds or using tan sprays. They protect not only your eyelash extension from falling out but also your eyes from harmful UV rays. 
While you might not need these goggles when visiting the tan beds center because they provide you. However, you may want to buy one when going out to tan in the sun. 
1. Peepers Sunbed Tanning Goggles
These tanning goggles are perfect to use for both indoor and outdoor tanning. They come in six pairs at a very affordable price. Peepers tanning goggles fit your eyes with eyelash extensions perfectly.
Their six different color combinations make you fall in love with them. While wearing them on the sunbed, the nose bridge will be slightly lifted, preventing tan lines. 
They make you feel comfortable when you put them on to protect your lash extensions from the tan beds and sunlight.
Peepers Sunbed Goggles get dirty quickly, and their nose bridge is not flexible. Except for this, you can't find any other reason not to avail them.
2. Podz Keychain Tanning Goggles
These tanning goggles are the best solution to prevent annoying tan marks and secure your eyelash extensions. Made from durable and lightweight material, Podz keychain tanning goggles are designed to provide maximum protection from UV rays.
They are available in a variety of colors and have a keychain holder. These tanning goggles for your eyelash extensions are hassle-free because they are easy to carry around.
Wrapping Up
Goggles protect your eyelash extensions against UV rays and water when you are on a tan bed or lying on the beach. We have listed some of the best and most affordable goggles for your eyelash extensions.
Products on this page are independently selected and reviewed. We may earn a commission if you buy through our affiliate links.