Having eyelashes in perfect shape is a blessing. You wouldn't have to spend a lot of time styling them every morning. They will not go down easily after giving them a touch of curling.
I am not blessed with perfectly shaped ones because I have straight down eyelashes. While I am still grateful, trying curled lash looks takes a lot of my time.
Well, if you are reading this, you might also have straight eyelashes or the ones that go down even after curling. I also had to ask and search why my eyelashes wouldn't curl and what I could do to make them stay curled.
Then it was when I made it into the beauty business and learned about these things in detail. This post will help you grasp why you have straight down eyelashes and what can make them stay curled.
Why Are Your Eyelashes Straight or Down?
People with monolid (a condition where eyes have no crease when open) or eyes with smaller creases tend to have straight or a bit down eyelashes. Their eyelids drop near the lash line, making their eyelashes grow straighter.
Moreover, a study on different animal species, including humans, showed that animals with smaller eyes have short and straight eyelashes.
Monolid eyes are a common feature of people in East Asian countries Like China, Japan, and Korea. However, people with elongated or horizontal eyes in any part of the world can also have monolids.
Or, if your eyelid skin folds over the crease, you may too have eyes that appear like monolid eyes. However, it generally happens in people who age beyond 40.
So, in any of these cases where you have no or very small crease over your eyes, the eyelids can make your eyelashes go down or straight. And mostly, it becomes difficult to curl these lashes.
When Straight Eyelashes Won't Curl?
Curling straight eyelashes make your eyes look bigger and more elegant. It also makes your lashes appear darker. So, you go out of the box to try every technique to develop those curls. But, at some time your lashes stop responding to them and won't curl anymore or go down after being lifted. 
For years working as a beautician, I have learned that the following factors can make your eyelashes stop curling.
Curling your lashes too much.
Long enough lashes that weigh themselves down.
Your Eyelashes have become short, thin, or weak.
Using a low-quality curler.
Not heating the curler before using.
Not squeezing your lashes enough when curling.
Putting too much mascara that can stick your lashes together instead of holding curls.
All of these are some of the common reasons due to which your eyelashes won't curl perfectly. 
How To Perfectly Curl Straight Down Eyelashes?
The straight or pointing down eyelashes are not easy to curl because they tend to get back to their original shape. And if they or short as well, things get tougher. The following ways will help you pull off the perfectly curled lashes.
1. Try A Keratin Lash Lift or a Perm
The eyelashes that don't curl or take a lot of your time every morning and still go down after being curled become annoying. So, if you want to put an end to this daily headache for two months, a lash lift can help you with it.
Lash lifts work great on lifting or curling the straight down eyelashes. There are different types of them, but we suggest you the keratin lash lift. It is a protein treatment that brings your straight eyelashes to their full potential.
Joshua Zeichner says that keratin lash lifts don't cause any damage to your lashes; instead, they make you feel confident about yourself. So, you start taking proper care of your lashes.
It is best to get a lash lift done by the expert because doing it home can result in too curly lifts.
2. Heat Curling Tool & Use Mascara
When it comes to curling your lashes, heat is crucial. It breaks the hydrogen bonds, which are then reformed in a curled direction when the curler becomes a bit cool. It's for this reason that you should tweeze your lashes for 20 seconds to allow the curler to cool down.
So, heat your curling tool with a hairdryer and then touch and feel it on your wrist or hand. It shouldn't be too hot. Otherwise, it can damage your lashes. When it feels comfortable, use it to curl your lashes. Remember, holding your lashes tweeted with a curler for 20 to 30 seconds is crucial for introducing perfect curls.
When done curling the lashes, apply a lash primer from roots to the top of your lashes. It lengthens your lashes and gives them a voluminous look. Moreover, it prevents the clumping of lashes when you apply mascara.
Now, apply waterproof mascara just on the bottom part of your lashes, unlike the liner. And comb the lashes.
In the end, use the curler one more time but without heating it. This whole technique will help you curl your straight lashes and hold them that they won't go down.
3. Use Asian Curler Brand For Straight Lashes
Use an Asian brand curler if you have small or monolid eyes because they are specifically designed for straight Asian eyelashes. Due to the smaller case, they fit on your eyes perfectly and prevent any pinching or poking.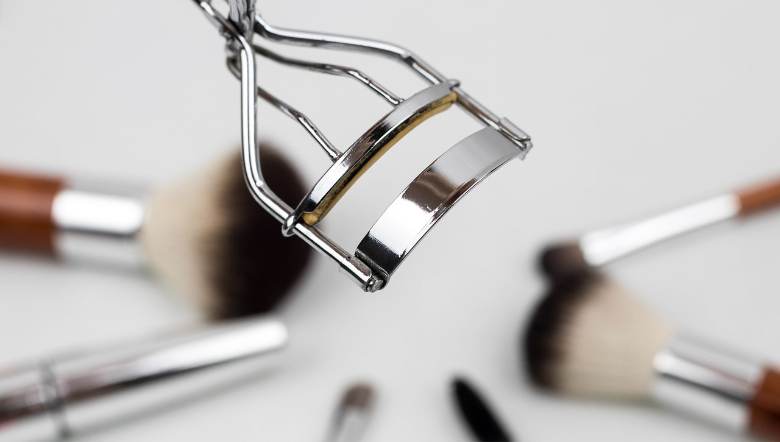 There are various brands (like Shiseido or Shimura) offering curlers for smaller eyes and shorter lashes, but we won't recommend any. You have to do trial and error and find one that fits you the best. And when you find one, we have a pro tip for you to use it.
Heat the curler with a hairdryer and try going to the base of the lash line and curling the eyelashes from the bottom. Hold your lashes pointing upwards for 20 sec with the curler and squeeze them a few times.
After this, you need to do the same with the middle and tips of your straight lashes and repeat the whole process twice. In the end, apply waterproof mascara to give the perfect curling finish to your eyelashes.
4. Try Magnetic Lashes
Magnetic falsies have gathered so much fame in recent years. The idea is unique and solves all the problems people have with conventional eyelash extensions.
Two of the famous brands, Moxielash and Glamnetic, offer more than 70 types of magnetic lashes collectively. The fake lashes look natural and are not too thick or heavy.
You feel no strain on your eyelids wearing them and. The best thing about magnetic lashes from these two brands is that you can use a pair 35 to 40 times. And it takes less than a minute to remove magnetic lashes.
So, if you have short stubborn lashes that won't curl perfectly, giving magnetic falsies a try can help you a lot.
What Have We Learned?
Straight eyelashes or those that point down are usually seen among people with monolid or hooded eyes. However, few other causes can turn your lashes straight and stubborn to curling. We have listed a few ways above to help you curl your straight or short eyelashes.