Probably the most annoying thing about mascara is how challenging it gets to remove. You risk losing a few lashes when you don't employ the correct technique to take mascara off. If you have been trying to remove mascara with water only, it might not be the best way to do it.
It is unlikely to remove mascara with water, especially if it is waterproof. Even if you put on the water-based mascara, using just water to take it off can be risky because you have to rub your lashes, which might make a few of them fall away.
You would need to use something oil-based, which can be a makeup remover, micellar water, or even coconut oil, to dissolve away every remnant of mascara from your lashes.
In some cases, when the mascara is purely water-based, you might be able to remove it with water, but you still have to use a gentle cleanser with it.
So, what's the best way to remove mascara without damaging eyelashes?
Below, I have discussed a few simple yet helpful ways to take mascara off, even if you have a lash lift or are wearing eyelash extensions.
Why You May Not Remove Mascara With Water Only?
Washing your lashes with water only to remove mascara is almost futile, especially when the mascara is waterproof. Why is so?
You might be familiar with the basic rule of chemistry that says like dissolves like. So, water can't dissolve or remove oil-based mascara because it is nonpolar while the water itself is polar.
Therefore, you should not rub your lashes with water to take off the waterproof mascara. Otherwise, you might lose some of them!
But, what's the case with water-based mascara? Can you remove it by washing your eyelashes with just water? Well, it is less likely. Mascara will still leave some of its remnants on your lashes.
Even the water-based mascaras are formulated to stick to your lashes. So, whatever warm or cold water you employ, it won't remove the mascara entirely.
If you are someone who loves applying mascara regularly to make your lashes appear longer and thicker but are annoyed by how challenging it sometimes gets to remove, read on!
In the following, I have explained some of the simplest yet effective ways to remove any mascara.
How To Remove Mascara with Water and Soap?
To remove waterproof or simple water-based mascara with a gentle soap like dove bar and water, you will need to break down the mascara with olive, castor, or coconut oil.
As mentioned above, it is not viable for water to dissolve away the mascara altogether. So, you require something nonpolar, like any essential oil, to loosen all of the mascara on your lashes.
Afterward, you will require a makeup remover swab or cloth. I use this fiber cloth that erases all of your dissolved makeup or mascara. The best thing about this makeup eraser is that it is reusable and washable, which makes it last 3-5 years.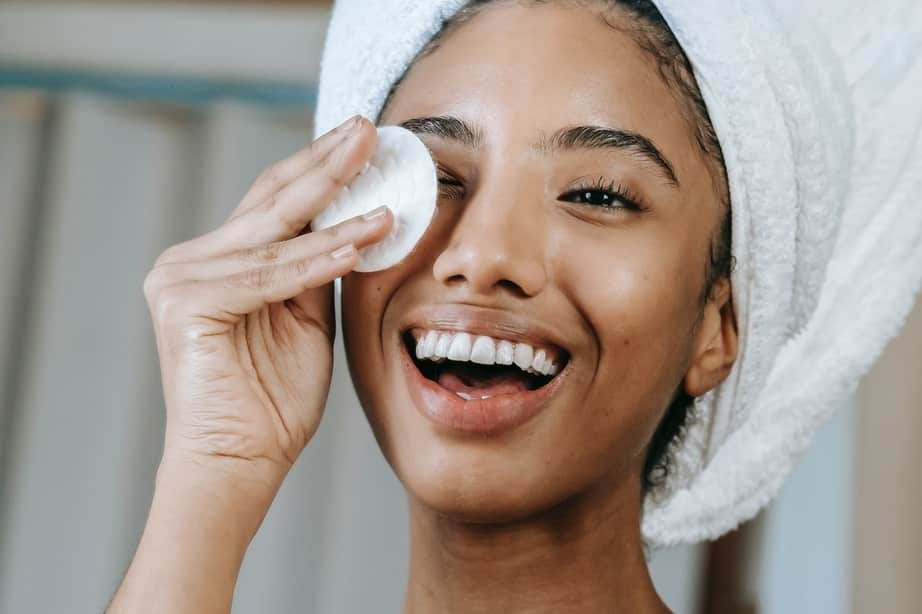 Once you have removed all of the oil and dissolved mascara from your lashes, create enough leather of dove soap on your fingers and gently apply it to your lashes. Work it into your eyelashes, and then rinse it away with the water.
Using dove soap will help remove all of the oil and mascara remnants. If you don't have it, you can instead employ baby shampoo.
Remove Mascara With Micellar Water
If waterproof mascara is central to your daily beauty arsenal, you might have found it challenging to remove. While many products claim to dissolve the mascara away entirely, they may require rubbing your lashes. So, employing these makeup removers often can damage your eyelashes to a varying degree.
However, micellar water is an exception!
This water-like liquid contains micelles (cleansing droplets) that attract dirt, mascara, makeup, and oil from your lashes. And it does not require any rubbing or rinsing.
As mentioned above, you will need oil or alcohol-based cleansers to remove the waterproof mascara. Micellar water contains tiny oil droplets that attach mascara with them and cleanse it away from your lashes. I recommend Neutrogena Micellar water that's affordable and effective.
That's the problem with using just water to remove the waterproof mascara. It can't bind with oil-based mascara particles and draw them away from your lashes.
Even if you wear water-based mascara, the splashes of normal water and rubbing will not remove it thoroughly. You still will need a proper mascara cleanser like the micellar water.
Many ladies use micellar water to remove mascara with lash lift or eyelash extensions because it's gentle.
While removing mascara with micellar water, soak a cotton ball with it and press the cotton against your lashes for two minutes. It will dissolve all of the mascara.
Afterward, gently sweep the mascara and micellar water with the same cotton ball or a q-tip. In the end, you can wash your lashes with lash shampoo or gentle soap or moisturize them with coconut oil.
How To Remove Mascara With Good Molecules Instant Cleansing Balm?
If you wear or wish to put on waterproof mascara daily, I would highly suggest you remove it using Good Molecules Instant Cleansing Balm. The great thing about this product is that it is formulated with shea butter, seabuckthorn oil, and camellia oil. All of these ingredients help keep your lashes healthy and moisturized.
The balm comes in semi-solid form. You have to take 1-2 g of it and melt it with the heat of your fingertips. Subsequently, you will need to rub it gently onto your lashes, working in a circular motion for two minutes.
The instant cleansing balm will break all of the waterproof or regular mascara. In the end, you will require to sweep all of the dissolved mascara using a makeup eraser cloth.
Leave your lashes overnight without washing them with any specific cleanser. The morning bath will be enough to remove any remaining balm on them.
However, it's entirely up to you whenever you want to wash your eyelashes with whatever type of gentle cleanser.
Wrapping Up
Using only water to remove mascara is less likely to work. Water might rinse away some of the regular mascara, but it won't remove waterproof mascara. Either way, you will need an oil-based product to break down the mascara.
You can use coconut oil or vaseline to remove mascara from your lashes because they easily dissolve the ingredients in mascara. Or, you can employ specifically formulated options like micellar water or makeup remover to do the job.
Products on this page are independently selected and reviewed. We may earn a commission if you buy through our affiliate links.