Just like the face, eyebrows are not always symmetrical. They can appear round, uneven, thin, and in any shape, you may not like. Conventional techniques of styling brows like plucking, threading, or waxing can only pull off ideal forms if you have fuller eyebrows. But what if you don't have them?
No worries! Microblading has got all of your ends covered. This advanced approach will save you a lot of time that you would have spent previously refining your brows. It helps you get thicker and even eyebrows and all those trendy arc shapes.
But! Do you still have to pluck or thread your eyebrows after microblading? Well, it depends on the shape of your natural brows.
This article will answer some of the frequently asked questions about eyebrows and microblading.
Do You have To Pluck Your Eyebrow After Microbalding?
Yes, if your brows grow outside the microbladed area, you may need to pluck them to maintain the perfect shape you got with microblading. However, you don't have to tweeze them if they grow within the form you've achieved after this cosmetic procedure.
Although microblading creates a very natural-looking result, portions of your brows may grow out of shape. As a result, you'll need a touch-up every few weeks to keep what you've achieved after investing your money.
However, people who already have thin and uneven brows may not need to pluck them after microblading because it adds volume to their existing eyebrows.
How Long After microblading Can You Pluck Your Eyebrows?
With the help of microblading, an aesthetician inserts brown pigments into your eyebrow area to give you an even and thicker shape that looks attractive and natural. Therefore, you should avoid plucking or threading your brows for seven to ten days as it may cause the color to spread or fade.
This procedure is designed to add volume instead of removing extra brows. So, you may start noticing unwanted hair growing out of the arc or whatever shape you got. Therefore, it becomes crucial to pluck or thread these eyebrows to stay in your ideal microbladed shape.
After a week or two, you will be good to go with pluck or wax your brows.
Can You Wax Your Eyebrows a Day Before Getting Them Tattooed?
To outline your eyebrows for microblading, the aesthetician will use your natural brow line. Therefore, before getting your brows tattooed, you should not wax them. Otherwise, you'll have to pluck them frequently. Why?
The cosmetic artist will be unaware of your original eyebrow line and may draw a microblading outline under the natural one. So you can envision how your entire eyebrow shape will appear when your waxed brows grow back.
Moreover, waxing or threading leaves your skin sensitive for some time. So, waxing a day before microblading can put your skin at risk of irritation from the numbing cream of color.
Do They Wax or Pluck Your Eyebrows Before Microblading?
This procedure intends to add volume to thin and uneven patches of eyebrows. Therefore, an aesthetician or makeup artist will not wax or thread them before microblading but draw a line over existing ones. It is because there is no need to wax eyebrows already thin.
However, if you already have fuller eyebrows and want to go with an arc or angled shape from round, a beautician may wax your brows after applying numbing cream for microblading.
Most importantly, we suggest you not wax your brows a day or two before this procedure. It will help the microblading expert to get a better idea of your original eyebrow line.
Do Your Eyebrows Still Grow After Microblading?
Microblading does not intend to remove your eyebrows but gives them a fuller and thicker appearance. Therefore, it does not affect their growth or regrowth. Eyebrows grow as normal as they were before the microblading.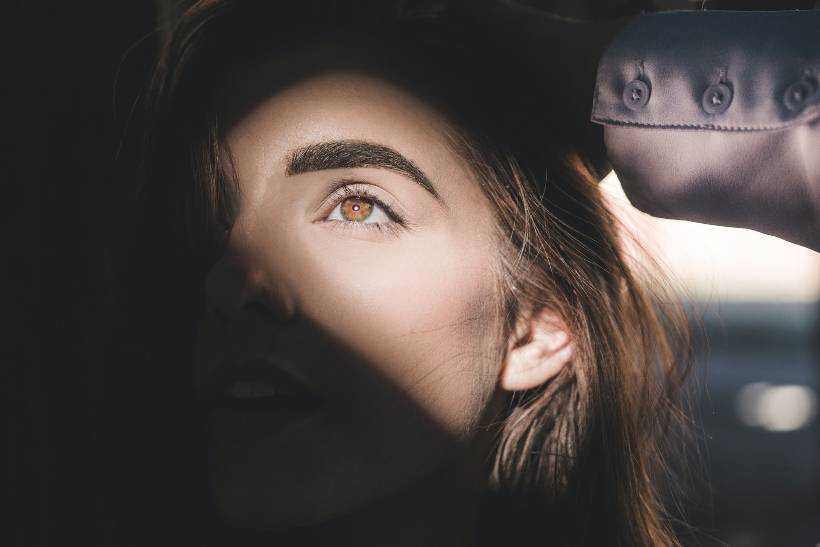 They only use a pigment or tint in your eyebrow area skin with the help of microblading. According to a study, this procedure does not affect the regular eyebrow growth pattern. It gives ideal fake eyebrows that look natural, just like we use artificial magnetic eyelashes. 
You can grow eyebrows by using hair growth products to add to the volume of your microblade brows. They will look perfect.
When Should You Wash Your Eyebrows After Microblading?
The microblading procedure creates micropores in your eyebrow area so that makeup artists can place pigments into the skin. Experts recommend almost a week when you ask when I can wash my eyebrows after microblading. The skin needs time to heal, and pores must be closed before washing your eyebrows.
Talk to your makeup artist to further get the information about the aftercare of this procedure.
How Does Microblading Work For Over Plucked Eyebrows?
In the 1990s, streaky and thin eyebrows were in trend. And for that, people used to over pluck their brows for years. Some of them ended up losing a significant portion of their eyebrows because over-plucking makes hair follicles weak.
So, if you also over-plucked to follow the trend and now have thin eyebrows, can microblading get you fuller and thicker brows? Yes, microblading works best for over-plucked eyebrows and helps you get the thick and angled eyebrows that are in trend nowadays.
What Have We Learned?
Eyebrows and lashes define the features of your whole face. When thicker and fuller brows are in trend nowadays, and you have thin eyebrows naturally or due to over-plucking, what are the options you are left with to follow the trend? Microblading! A sophisticated technique that gets you defined and thick eyebrow shapes.
Consult a makeup artist, an expert in this procedure, and get ideal brows that last for one to two years