You may have discerned already that a professional manicure makes your nails look excelling. But have you ever wondered why? It is not all about how they were shaped or polished. The way professionals at the saloon manage the cuticle is always crucial in hitting your mani goals. And here comes the role of DIY cuticle softeners that help you tackle the cuticle's flaky layer.
At SkinVeteran, we believe in helping our readers maintain a good-looking appearance. So, today, we will be helping you choose the best DIY cuticle softener product or method to accomplish your aesthetic goals.
Why are cuticles Important for You?
A cuticle is a thin layer of your skin present at the bottom of your nails. It is also present around your hair shaft. In both places, it has a single vital function of protection. At the bottom edge of nails, the cuticle seals off the matrix that is responsible for nail growth. Also, it protects newly growing nails against bacterial infections.
So, why remove them? The extended skin or cuticle causes nails to look unaesthetic. When remaining unchecked, it continues to grow and dry up at the bottom edges of your nails. So, if it is not managed properly, your manicure will look off.
How Does DIY Cuticle Softener Works?
Removing overgrown dead cuticles renders you a beautiful and long-lasting manicure. For this purpose, there are multiple effective cuticle softener products available. A cuticle softener is a gel-like solution mainly containing sodium hydroxide, potassium hydroxide, and hyaluronic acid. 
The solution is directly applied to the unwanted cuticle and left for 10 to 15 minutes. Sodium hydroxide breaks the hydrogen bonds of the cuticle and makes it soft. 
After the given time, the softened cuticle can easily be removed and pushed back. Most of the cuticle softeners are gentle to the nails and do not cause any irritation.
However, some can be harsh. So, If you experience a little bit of upset after applying them. Apply a few drops of essential oils before using the cuticle softener.
5 Ultimate Cuticle Softeners
By employing the following some of the best cuticle softeners, you will be able to push back as well as dissolve the bizarre-looking cuticles.
1.Melts Away Cuticle Exfoliator (Best Overall)
Butter London is a famous beauty brand that offers a wide range of products. Melts-away cuticle exfoliator magically softens and dissolves the cuticle in minutes. It gently takes down the overgrown skin with no need of clipping it. 
Additionally, it is free from 10 notorious chemicals used in nail products. Therefore, it does not cause any pain and irritation. According to several customer reviews, this cuticle softener removes the cuticle with no effort at all. They say it does exactly what it is supposed to. 
2. Blue Cross Cuticle Softener (Best Value)
This formaldehyde-free cuticle softener is a fast-acting formula that offers effective results. Boasting over 9000 ratings, it comes in 16-ounce packing that saves you a lot of time. This lanolin-containing Blue Cross product removes dead tissue with ease leaving excelling nails behind. 
Customers are completely satisfied with this cuticle softener claiming that it even removes the toughest cuticles without any pain. You can give yourself a professional-looking manicure at home with this.
3. Sally Hansen Cuticle Remover (instant)
This is an affordable cuticle softener that you can buy from Walmart easily. You have to just apply it on extended dead cuticles for 5 minutes. It efficiently removes the cuticle from the edges and will clean the nail plate in no time. 
It is specifically formulated with a pH level that even wipes off the super thick cuticles. If you talk about a cuticle softener for the rough and dried cuticles, no one can surpass Sally Hansen Problem Cuticle Remover. We also acknowledge that it comes with several manicure sticks to help you push back cuticles after you soften them.
Also Read: Salt Scrub vs. Sugar Scrub: Here is How to Choose Between Two
4. CND Cuticle Eraser (Exfoliator)
Just like our other body parts, nail cuticles also need exfoliation. It removes all dead skin and gives a smooth appearance to the nails. CND cuticle eraser does cuticle exfoliation efficiently. It contains alpha-hydroxy acids that are the best ingredients for softening and removing cuticles.
5. Essential Cuticle Oil (Softens Cuticle)
This product from the Dermstore is something completely free from chemicals. It contains different vitamins like B5, A, and E. You will need to apply it to your cuticles before going to the bed. It will soften down the cuticles, and you will easily push them back in the morning. It absorbs quickly and does not feel greasy. Also, the essential cuticle softener smells great. It is a good product unless you are in a hustle.
3 Easy DIY Cuticle Softeners Home Based Methods
If you are running short of money or do not want to use commercially produced cuticle softeners, I have some effective DIY methods for you that work the same as those stored-based products. Being a skin expert, I apprehend the ingredients used in the above-mentioned products. Therefore, you can make an efficient cuticle softener by following the under-given methods.
1. Soap, Oil, and Warm Water (DIY Cuticle Exfoliator)
Wash your cuticles with good soap and warm water. Soaps are made up of fat and sodium or potassium hydroxide
Washing your cuticle will soften them
Now instantly apply any essential oil on the cuticles before they get dry. It will further soften them down
Take the stick and push them back. Clip or brush any of the cuticles that stick out. They are usually dead and do not hurt while brushing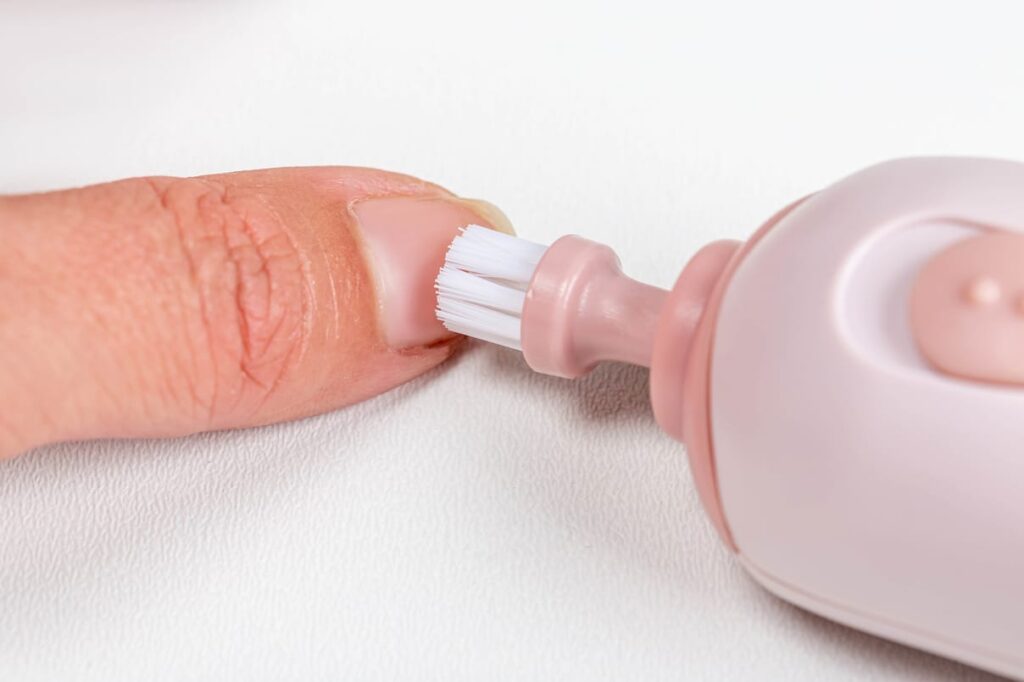 2. Apple Cider Vinegar or Lemon Juice
Both of them contain acetic acid which easily breaks the hydrogen bonding of the cuticle. Therefore, you can use any of them as a cuticle softener. 
Dip your cuticles inside lemon juice or apple cider vinegar for 30 to 60 seconds.
Now apply any essential oil on the cuticles and wait for five minutes.
After 5 mins, you will be able to push cuticles back with ease.
3. Use a Face Wash (Cuticcle Exfoliant)
Exfoliants contain alpha-hydroxy acids like salicylic acid and lactic acids. Acids are potent bond breakers by changing the pH. Therefore, using any good face wash on nails will work as a cuticle softener for you.
Apply a face wash on the cuticle and leave it for a minute. 
Wash it off by rubbing it with your fingers
Now apply any essential oil and push cuticles back with almost no effort.