All hair straightening tactics, including chemical hair straighteners and flat ironing, cause dryness and hair breakage. Chemical straightening is harsher and has a more significant share of harm to your manes.
Therefore, it is crucial to look out for ways to help you repair this damage quickly as possible while still keeping your hair straight. One of those ways is employing the best oil for chemically straightened hair.
Natural oils like coconut oil, argan oil, jojoba oil, and grapeseed oil can be the best therapy to repair your chemically straightened hair. However, picking an oil that doesn't turn your straight hair kinky again is crucial while repairing the dryness and hair breakage.
Also, you may need to be mindful of when to use any of these oils after a chemical hair straightening because oil may turn your newly straightened hair curly again.
After researching and learning from our experiences, we have detailed down some of the best oils for chemically straightened hair. So, let's get into it!
Can You Apply Oil After Permanent Hair Straightening?
Yes, you can apply oil after a permanent hair straightening or smoothening, but not for the first two to three weeks. Your chemically straightened hair needs time to set. So, if you apply oil to it a day after the straightening, hair can change its texture to kinky and curly again. 
The chemically treated hair always needs moisturization and nourishing because it has lost moisture and proteins to the chemicals. But, both in the case of hair straightening and coloring, you need to give your hair some time to settle. 
According to Javid Habib Hair Expert, you can moisturize and nourish your chemically straightened hair with oil after two weeks of straightening. 
The oils help your hair become more robust. So, people also use them before straightening or bleaching to prepare their mane to withstand the harsh chemicals. 
Best Oil For Chemically Straightened Hair
Hair has three layers, and the outermost, also called the cuticle, produces sebum and protects the hair shaft. During the chemical straightening, the cuticle bears most of the damage in the shape of proteins and moisture loss. So, using oils like coconut, avocado, and grapeseed on chemically straightened hair compensate for this loss.
Following, we have explained which and how to use oil on your hair after chemical straightening to repair the dryness and breakage.
1. Coconut Oil For Chemically Straightened Hair
Coconut oil is one of the best nourishing oils. It contains 20 amino acids, various vitamins, and medium-chain fatty acids. It quickly absorbs into the hair strands and conditions them from inside.
According to research, coconut oil performs best at preventing protein loss and can quickly coat your chemically straightened hair with its proteins. It strengthens hair shafts and gives them a silky smooth texture in long-term use.
When employing coconut oil for your hair, make sure you choose virgin oil, which is not processed and contains all nutrients.
But there is a specific way to use coconut oil on your hair after chemical straightening. Apply only for half an hour and rinse it out using a gentle shampoo. Leaving it overnight may turn your straightened hair curly and kinky.
2. Argan Oil for Hair After Chemical Straightening
Argon oil is the elixir of the beauty industry, and its use goes back centuries. When employing it for chemically straightened hair, it helps repair the damage through hydrating, nourishing, and softening the hair strands. Argan oil contains vitamin E, which helps increase blood circulation to hair follicles and promotes hair growth.
Moreover, vitamin E is crucial to prevent hair breakage from chemical straightening and restore shine to the manes.
When using argan oil for your chemically treated hair, mix it with coconut oil to compound the benefits. And never leave it in your manes for too long to keep your hair straight and smooth.
3. Grapeseed Oil For Straightened Hair
People have created hype about using grapeseed oil for hair growth, which is to some extent valid. It contains flavonoids called procyanidin, which has proved to improve hair growth. Additionally, grapeseed oil has excellent nourishing and conditioning action. So, if you use it for your chemically straightened hair, grapeseed oil will add strength, moisture, and gloss.
Unlike coconut or argan oil, grapeseed oil is lightweight and doesn't cause greasy hair. Its omega 3 and 6 fatty acids, ceramides, and vitamin E work best to strengthen weak and brittle hair.
Grapeseed oil goes well with almost all of the beauty-graded oils. Therefore, you can mix it with coconut or argan oil for a better repair action after the chemical straightening of hair.
4. Avocado Oil For Chemically Treated Hair
We went with avocado oil use after hair straightening for two main reasons. First, as the study shows, avocado oil contains minerals that are extremely useful to seal the cuticle left open from straightening chemicals. As a result, it can help hair lock in moisture and prevent breakage.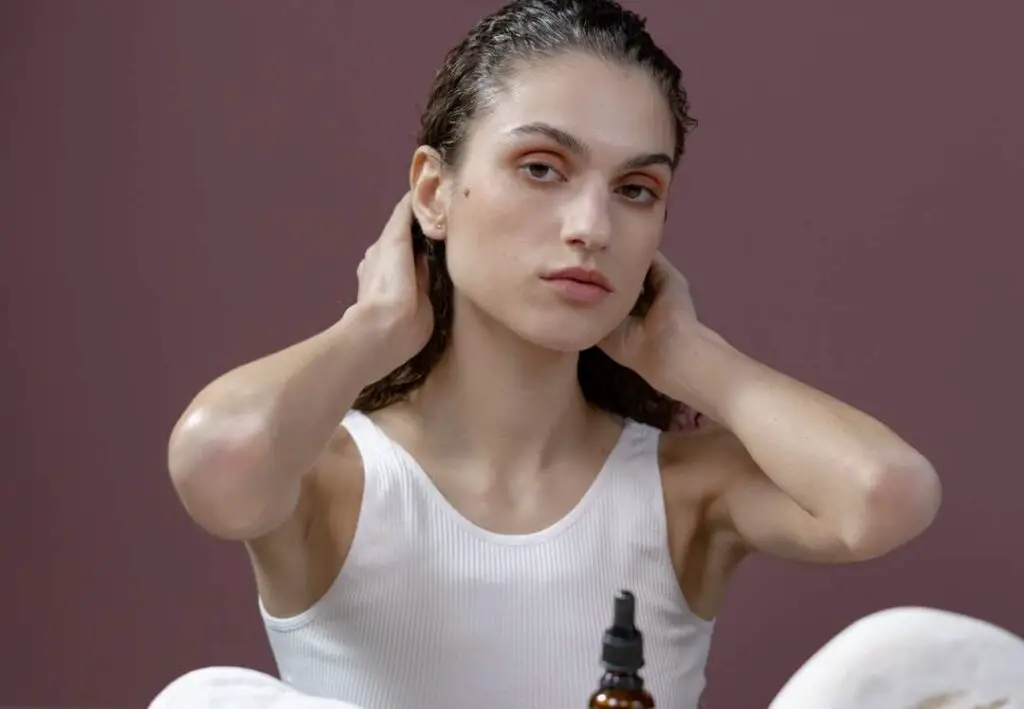 By applying avocado oil to your chemically straightened hair, your hair strands will go from dull and frizzy to smooth and glossy within a few days. It is lightweight compared to other oils. So, avocado oil will not cause any buildup. 
5. Peppermint and Jojoba Oil To Repair Chemical Damage To Hair
Peppermint oil has some of the most positive effects on hair growth and thickness. A study found that it is more effective than minoxidil, a leading hair loss medication. It boosts blood supply to the hair follicles and provides your mane with various nutrients.
But peppermint oil is costly because 200 pounds of peppermint leaves produce only a single pound of oil. So, how can you use it for your chemically straightened or damaged hair?
You can mix peppermint oil with jojoba oil, an oil-like wax that is exceptionally moisturizing. The best thing about mixing both of these oils and applying them to your hair after chemical straightening is their quick repairing action. Peppermint and jojoba oil can reduce dryness, frizz, and hair breakage within days.
Executive Summary
It is not good to apply nourishing and moisturizing oil to your chemically straightened hair for the first few weeks. But you can use coconut oil, avocado oil, argan oil, or peppermint oil to repair the dryness and breakage caused by hair straightening chemicals after two weeks.