Along the rocky Atlantic coastline between Europe, North America, and Caribbean Islands grows a colorful algal range consisting of yellow, purple, green, and red sea moss. Red Irish Moss, biologically known as Chrondus Crispus or carrageenan in general, is the most abundant. Due to its rich nutritional content, sea moss has magnificent health benefits, especially for hair.
A high number of nutrients, minerals, and vitamins make sea moss the ultimate food for your hair. This edible plant can promote hair growth, reduce shedding, and restore the damage done to your hair.
At SkinVeteran, we are a team of experts who make sure that our readers maintain healthy skin. This article will put out the evidence-based benefits of sea moss for hair. So, let's dive in!
What Makes Sea Moss Special For Hair?
Sea moss contains a long list of vital minerals and vitamins. It almost carries every other nutrient critical for your hair health. And, this is why we use it in various health supplements. The exact nutritional composition can vary, but commonly a 10g sample of sea moss contains:
Vitamin A 11.8 IU
Vitamin C 0.30 mg
Calcium 7.20 mg
Vitamin E 0.09 mg
Folate 18.2 mcg
Vitamin K 0.50 mcg
Vitamin B 6.01 mg
Iron 0.89 mg
Zinc 0.195 mg
Vitamin B 12.0 mcg
Omega-3 4.70 mg
Protein 0.15 g
Others
Different brands sell sea moss as a source of vitamins and minerals in various forms. You can find it on the market as a gel, powder, capsule, and even as gummies.
What are The Benefits of Sea Moss for Hair?
The abundance of vital nutrients, vitamins, and minerals in sea moss put this seaweed on another level. The following are the proclaimed benefits of sea moss for hair.
1. Triggers Hair Growth
Sea moss offers minerals (zinc, iron, and calcium) required for strong, long, and healthy locks. Almost every other vitamin used in hair supplements is present in it. And above all, its omega-3 fatty acids increase blood circulation to trigger hair growth. 
According to a study, an increase in width and length of the follicles occurs when sea moss is regularly used because it increases the gene expression of Insulin-like growth factor-1. It even ensures the growth of hair on thinning patches of the scalp.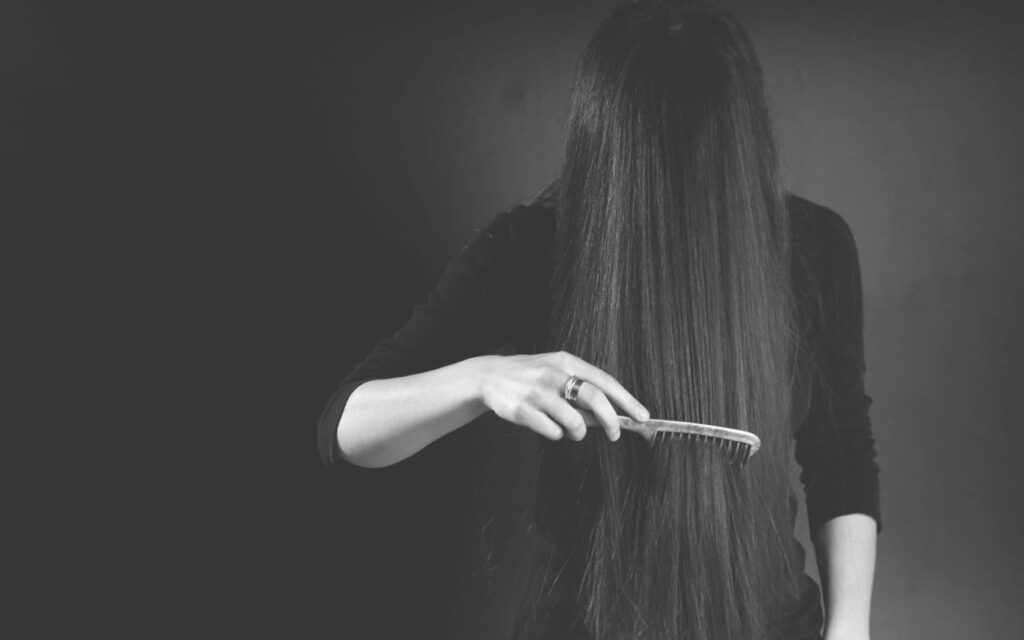 Studies suggest that seaweeds such as sea moss may be useful for treating alopecia (baldness) in the future. Regular application of sea moss ensures better shine and revives the beauty of dull hair by providing it a natural glow.
2. Prevents Hair Fall
Antioxidants protect the living hair cells from reactive oxygen species that can cause damage to the membrane proteins, lipids, and DNA contained inside the hair follicles. Due to its antioxidant content, sea moss is a great tool to maintain hair health and reduce hair fall. 
Vitamin E acts as an antioxidant to counter excessive oxidation and prevents premature greying and hair loss. Also, it aids in the healing of wounds from any scalp infection. Moreover, sea moss has fucoidan, a compound with vitamin C, which gets you rid of free radical damage on your scalp.  
Omega-3 and essential amino acids in the sea moss provide your hair with strength and elasticity. Therefore, you will experience almost no hair fall while brushing your hair. 
3. Moisturizes Your Scalp
Having a relatively high quantity of Vitamin A, sea moss makes a good moisturizer. It stimulates the microscopic glands in the skin to release sebum, an oily substance that locks moisture in and helps hydrate hair follicles.
Further, vitamin A also regulates the sebum production on your scalp. It is critical because too much oil can cause dandruff and acne.
Sea moss is also a gentle exfoliator; it leaves the skin smooth and prevents itching, dandruff, and scalp inflammation. In addition, this wonderful seaweed increases the elasticity of hair follicle cells that aids in different hairstyles. As a result, your hair is always glossy, bright, and thick.
4. Prevents Hair Damage
Coastal algae-like sea moss has the stounding ability to protect hair from stress conditions, for example, changes in the temperature of surroundings, environmental pollutants, or Ultraviolet Radiations. 
Carrageenan extract from sea moss helps heal excessive chemical and heat damage. Sea moss also contains zinc, which plays a pivotal role in the growth and repair of hair tissues. As a result, hair becomes less prone to damage and breakage. It is why organic sea moss products are often constituent the sunscreen for hair and scalp.
5. Sea Moss Conditions Your Hair
Sea moss is a nature-made conditioner. It provides the hair shaft and your scalp with ultimate deep nutrition. In addition, it reduces the friction between your hair, for which we usually employ conditioners. You can make your sea moss hair gel at home and enjoy smooth, shiny, and strong hair.
6. Carries Anti-microbial Properties
Eczema, dermatitis, and flaky skin due to dandruff are some of the common scalp conditions. Omega-3 fatty acids present in sea moss are effective for subsiding inflammation. In addition, the antioxidant content reduces the oxidative stress produced due to infections.
Sea moss benefits your hair by reducing the dryness and flakes caused by dandruff inciting fungi. While it is not a complete solution for dandruff, sea moss, while applied with other medication, speeds up the removal of fungal infection.
How to Use Sea Moss for Hair?
Sea moss is a popular ingredient of many food and beauty products, ranging from tropical to culinary uses. Its cell wall comprises carrageenan, which is used as a thickener and emulsifier in hair products and food.
Sea moss forms a jelly-like texture when boiled in water and is often used as a vegan alternative to gelatin. In addition, oral capsules are available, which can be taken as nutritional supplements.
Moreover, you can make lotions, gels, soaps, and other hair care products out of it or buy them from the market. In this article, after talking to our pharmacist, Dr. Ifsha Akhlaq, we brought you a DIY recipe for sea moss hair gel.
DIY Recipe of Sea Moss Gel for Hair
This DIY recipe of sea moss hair gel is simple. So, it will be easy for you to execute it at home. But, you will need the following material first.
500 ml contamination-free water (use bottled water)
100 g dried Sea Moss  
You can add 2 tbsp of any essential oil ( avocado, lavender, coconut, tea tree oil)
Blender
Glass Jar with lid
Procedure:
Soak the dried moss in 300 ml water overnight
Filter the soaked material in the morning and discard water
Add the 200 ml water to the blender along with wet moss
Also, add the essential oil into it
Blend until no lumps remain
Transfer the pale white sea moss gel into the jar and store it in the refrigerator 
You can use this gel for 4 to 5 weeks
Bottom Line
Sea moss is the natural remedy for nearly all major hair issues due to its good nutritional value. That is why it has made its way into various hair care products such as shampoos, hair masks, moisturizers, cleansers, conditioners, and stylers.
We will recommend its use if you are struggling with rough, damaged, and weak hair. It will boost the slowed hair growth and repair damage done to hair tissues. While sea moss might aid to some extent, we will not suggest employing it for other scalp deformities like infections. It will help if you talk to an expert about conditions like these.